The countdown is on! What do you say we take all of that Halloween excitement and funnel it into some crafting!?
And how about we make it super easy for you? For these Halloween craft ideas, all you need is some construction paper, scissors, and tape or glue. That's it!
After all, it's the time spent together making memories that really counts—not the extravagance of the activity. So grab that construction paper, and let's get making some Fun and Easy Halloween Paper Crafts together!
Every day this week, I have shared a construction paper craft to this post for you to enjoy with your little ones. These are actually the Halloween crafts from my Holiday Construction Paper Crafting Guide! You can get your FREE copy with easy construction paper crafting ideas for Halloween, Christmas, and Valentine's Day right here:
Day One: Countdown Paper Chains
To kick things off, let's make a paper chain to countdown to Halloween! Paper chains offer so much learning for little ones. They can practice their scissor and fine motor skills, and you can throw in some patterning, measuring, and counting too.
Choose how many days long you want your countdown chain to be —5, 10… 31?—and cut out that many strips of orange and black construction paper. Use a glue stick, tape, or stapler to secure loops in a chain.
We like to hang our countdown paper chain in the kitchen, then, each morning, we snip one of the loops off until the very last loop remains on Halloween Day. Or, if you have little ones that are SUPER eager to go out trick or treating, you could even do one loop for each hour until it's time to head out!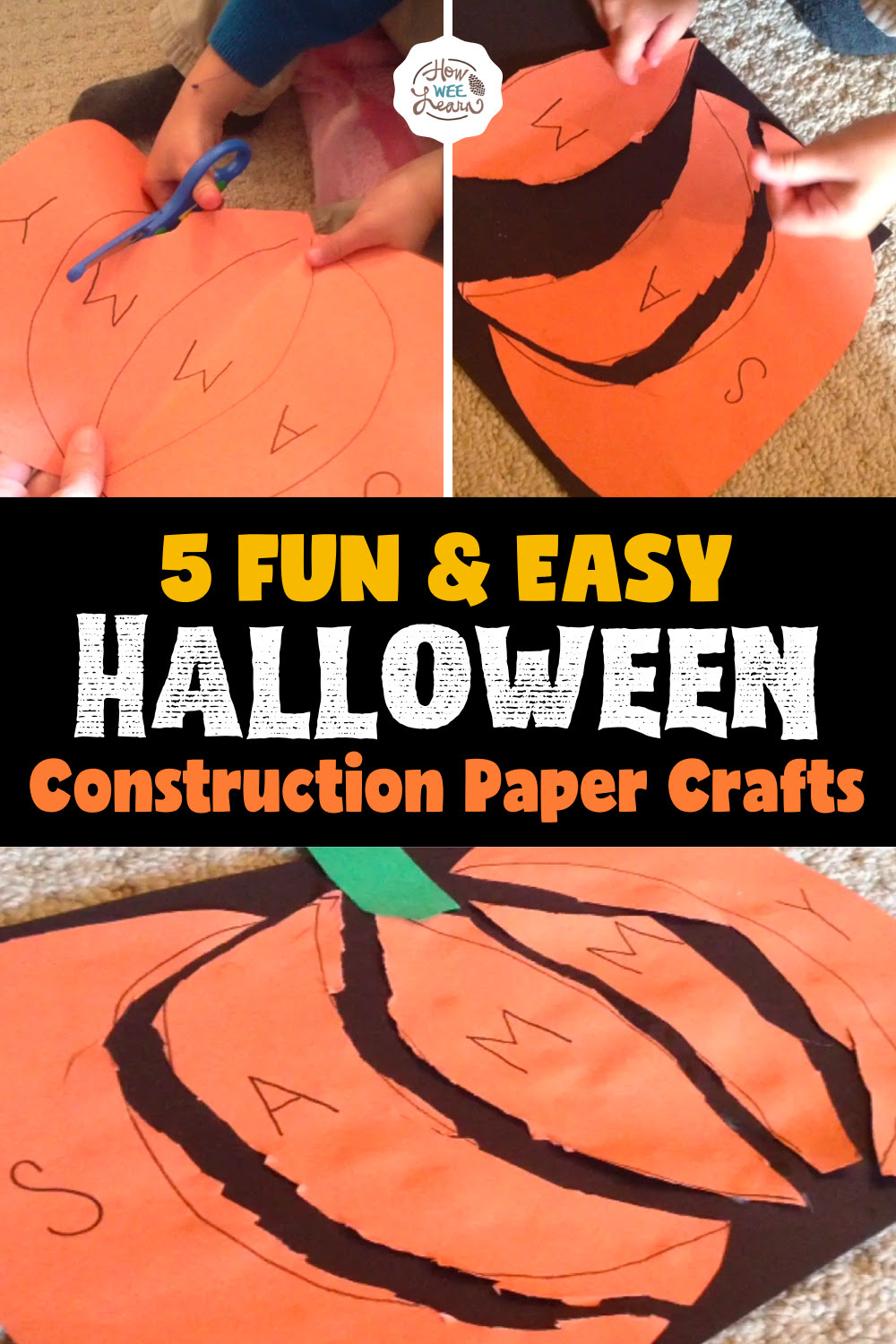 Day Two: Pumpkin Name Puzzle
Our next construction paper craft is a How Wee Learn classic—a name puzzle! To prep, cut a simple pumpkin shape from orange construction paper and write your child's name on it with a 'ridge' between each letter.
Next, have your little one cut on each ridge to make the puzzle pieces. You can lay out the puzzle pieces to show your child what their completed name puzzle will look like, then… mix it up! Your little one can now sort through the pieces to assemble their name puzzle.
Play with the puzzle pieces again and again—or even hide them for a scavenger hunt—and when your little one is ready, glue those pieces down onto a piece of construction paper to proudly display.
Day Three: Halloween Monsters
Today, we're going to make some SpoOOooOky (not really) Halloween Monsters!
To start, cut out some simple eyes, mouths, noses, legs and arms from construction paper. Next, let your little one go wild creating a very silly monster! When they are finished, you can count up how many eyes, mouths, etc. their monster has.
You could also give your little one a set of "Monster Instructions" that says how many eyes, mouths, noses, legs and arms the monster should have. Your child can then get to work counting out the body parts and assembling their monster.
Day Four: Torn Paper Pumpkins
Let's make some torn paper pumpkins! You can't get much easier than this one, but the end result is super cute!
Simply tear up some strips of orange construction paper into small pieces and glue them in a simple pumpkin shape on a piece of white paper. Next, add some black construction paper eyes, a nose, and a mouth. Finally, pop on a little green construction paper stem and your torn paper pumpkin is complete!
Day Five: (Not So) Spooky Spiders
Last but not least, we will make some spooky spiders from construction paper. For this craft, you'll cut 8 strips of construction paper and fold them up accordion-style for your spider's legs. Next, cut a circle from construction paper for your spider's body and secure it to the legs with tape or glue.
Now it's time to add a face! You could cut a mouth and eyes out of construction paper, or… if you want to get really wild and add in some NEW materials—SHOCK! GASP!—you could draw on a face with markers or even pull out the coveted googly eyes!
There you have it, my friend, 5 Fun and Easy Halloween Construction Paper Crafts for you and your little ones to enjoy leading up to Halloween. I hope you have fun and make some beautiful memories together!
xo
Sarah
P.S. Don't forget to grab your FREE Holiday Crafting Guide!