Get ready for some awesome and easy Homemade Easter Basket Ideas! I decided this year to make a lot of the gifts to go inside my kids' Easter baskets. I wanted some simple DIY spring toys, homemade Easter gifts, and some easy homemade Easter chocolate treats to go inside their Easter baskets.
Just before we get into the ideas, you'll also want to grab this FREE Easter Scavenger Hunt Printable! All you have to do is print, cut, and hide the clues. Easy peasy! There is an indoor and outdoor version:
We used to love to make our own EVERYTHING. Over the years, things have gotten busier, and this has become less of a priority for me. But now, I have found myself with some extra time on my hands, and a bit less money in my pocket, making this seem more and more appealing.
I really do love making things myself. I love living frugally and mindfully spending my money. So the idea of using what we have at home to make some special things for my little loves this Easter sounds just about perfect.
I thought I would share them with you as well. I hope they are helpful to you and yours!
Homemade Easter Basket Ideas
We are not big on sugar around here. Well, actually, I LOVE chocolate, but I don't love my already energetic kids having chocolate. So I thought I would make just a few little treats to go in their Easter baskets. The rest will be filled with fun little toys and activities.
Homemade Side Walk Chalk Paint, by Learn, Play, Imagine: I love putting sidewalk chalk in my kids' Easter Baskets, but I couldn't find a good DIY recipe for sidewalk chalk that didn't have Plaster of Paris in it. I do not have this on hand, so I kept on searching! I found a great recipe for Sidewalk Chalk PAINT that uses only cornstarch, water, and food coloring. I have all of those things and think my kids would love this as a nice change.
Cup and Ball Game, by One Little Project: This is a nice and easy little homemade toy that will not only look adorable in the Easter baskets, I know my boys will love it! I will substitute the wooden dowel that I don't have on hand for a pretty, unsharpened pencil.
Plastic Bag Jump Rope, by A Childhood List: Each year, we put jump ropes in our Easter baskets, so I wanted to find a fun DIY jump rope version. We have a bunch of rope, so originally I was just going to braid some of that, but then I saw this version made from plastic bags! We have lots of plastic bags right now, as we are not currently using our cloth ones at the grocery store, so this looked like a fun idea. Who would have thought of a plastic bag jump rope?
Outdoor Tic Tac Toe, by Atta Girl Says: I love outdoor toys for Easter baskets. This tic-tac-toe version using rocks painted as tadpoles and butterflies is so cute!
Coconut Cream Eggs, by Inside Bru Crew Life: This one looks so scrumptious! I love coconut cream eggs! I mean, for the kids, of course. This one has one ingredient that I am going to substitute as I don't have it on hand. I am not a baker, so I can't tell you what I am substituting just yet, as I have no idea if it will work. But fingers crossed!
Chocolate Peanut Butter Bunnies, by Staying Close to Home: Now, THIS one is right up my alley—only three ingredients! And peanut butter is so high in protein… these ones are practically good for you. Right? Ha!
Homemade Bubble Wands, by One Crazy Mom: Bubbles are always a hit around here. These look like nice and simple wands to go along with some bubble solution to add a beautiful pop of color to our Easter Baskets. And I have everything needed! If you don't have small beads at home, you could cut up some straws instead.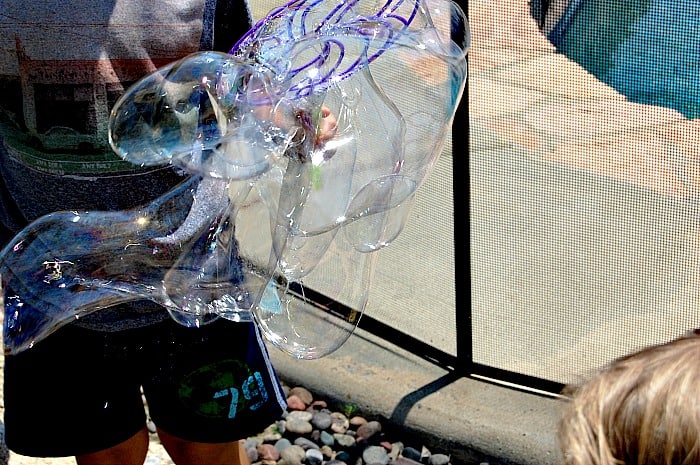 Homemade Bubble Solution, by Happy Money Saver: I am excited to try this DIY bubble solution as it is SO EASY! All you need is dish soap and corn syrup. We have some pretty little bottles to pop this in, and I know they will be a hit – especially with my littlest.
And there you have it! That is my plan this year for our Homemade Easter Baskets. We will do a little Easter egg hunt as well—I think I will buy a few jelly beans for that one. I mean, homemade jelly beans are a whole other level of DIY. One step at a time!
I am excited to see what my little ones think of their homemade Easter baskets. I am not really sure if they will even notice the difference.
I think this is a fresh start for me. Back to the basics and one of the very reasons we moved out to the country in the first place. To slow down, grow, and make our own.
I hope these homemade Easter basket ideas were helpful for you as well. Happy Easter to you and yours!
xo
Sarah