Rocks and gems and minerals, oh my! There is so much to learn—from the types of rocks and the rock cycle, to gems and birthstones and how we use rocks in everyday life. In my Rocks & Gems Family Unit Study, we learn all about those topics and more. In fact, these 10 Children's Books About Rocks are the suggested books for each topic in my Rocks & Gems Unit Study!
If you are new here, let me explain. Each month, I release a brand new Family Unit Study, which is perfect for the whole family to enjoy together, as the activities work for all children aged 6-12 years old. In fact, most of the activities work perfectly for younger children, too!
Each Unit Study covers 10 topics, and each of those 10 topics includes:
An interesting fact and discussion question
Informative readings at your fingertips
A hands-on activity with materials you already have at home
'What's Happening' information to accompany your hands-on activity
A curated YouTube video
A math word problem or literacy prompt
AND a suggested book that fits that topic!
Grab a sample and take a peek inside my Stars and Constellations Unit Study!! You can also see the entire collection of Unit Studies available in my shop right here: https://shop.howweelearn.com/collections/family-unit-studies-1
Today, I thought I would share with you the 10 topics we cover with our Rocks & Gems Family Unit Study and 10 Children's Books About Rocks that beautifully fit each topic.
I strongly suggest you get these books from the library if you are able to. I have also included my Amazon affiliate links below, in case you would like to add them to your personal library.
Are you ready to see the 10 children's books about rocks?! Here we go!
10 Books About Rocks for Kids
Topic One: What is a Rock?
A rock is a collection of sand, pebbles, and gravel that have formed as one over time. Rocks are often grouped into three types: Igneous, Sedimentary, and Metamorphic. In this Family Unit Study, we will explore all three!
Book Suggestion: Everything Rocks and Minerals by Steve Tomecek
Targeted to rock-crazy kids, this bold book is more energetic, more visually exciting, and more fun than anything else on the market―and with more information, too! Youngsters become geology experts as they browse eye-popping photos and absorb layers of information made extra fun through a humor-infused presentation.
Topic Two: The Rock Cycle
Rocks progress through a rock cycle over millions of years! A volcano brings magma to the surface of the Earth, which turns into igneous rock. Over millions of years, it breaks down and turns into sedimentary rock, and finally into metamorphic rock.
Book Suggestion: The Rock Cycle by Wendy Conklin
This high-interest nonfiction reader will help students gain science content knowledge while building their literacy skills and reading comprehension. This appropriately leveled text features hands-on, simple science experiments and full-color images and graphics. Fourth grade students will learn all about the rock cycle through this engaging text that supports STEM education and is aligned to the Next Generation Science Standards.
Topic Three: Igneous Rock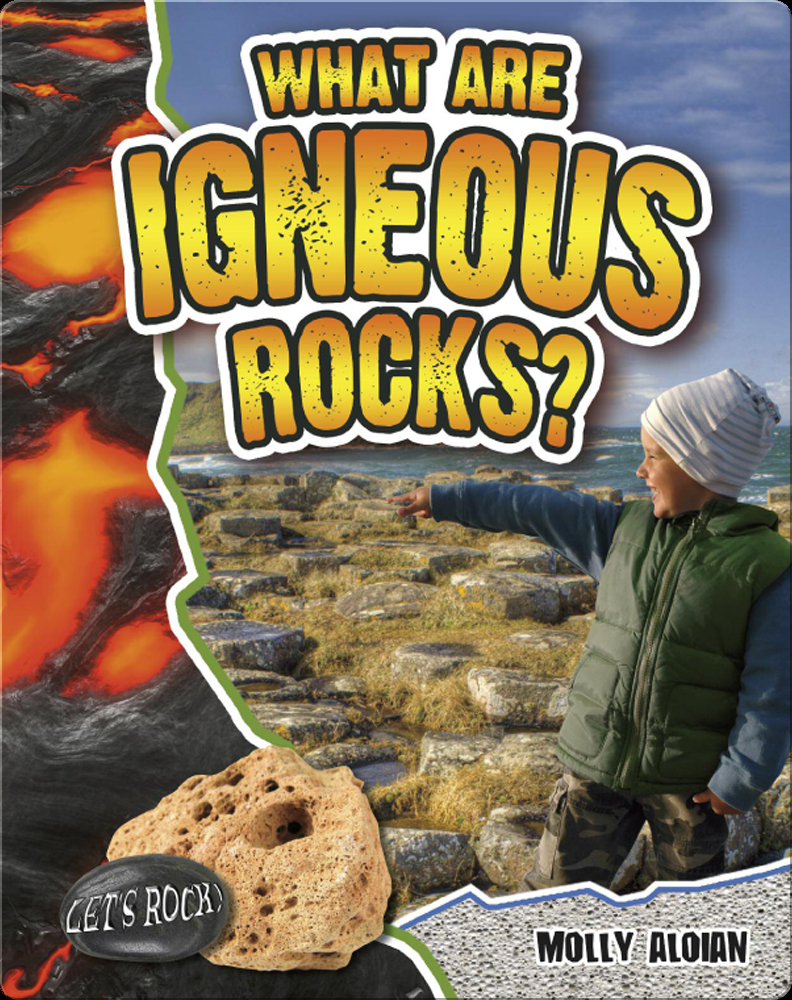 Igneous rocks form from hardened lava, or magma, from a volcano. After the lava spills out of the volcano, it cools and hardens into igneous rock.
Book Suggestion: What are Igneous Rocks? by Molly Aloian
Igneous rock has a dramatic beginning – it requires red-hot volcanic activity. This fact-filled book explains how granite, lava, basalt, silica, quartz and feldspar are formed after hot, molten rock cools. Readers will also learn about volcanoes and tectonic plates, the minerals that make up igneous rocks, and the crystallization of rock material.
Topic Four: Sedimentary Rock
Sedimentary rock is made up of sand, gravel, and other sediments that have been compressed together over a long period of time.
Book Suggestion: What are Sedimentary Rocks? by Natalie Hyde
It all starts with erosion for sedimentary rock. Worn down bits of rock become pressed together under pressure into strata, or layers. The formation of rock such as sandstone, shale, limestone, and dolomite is explained in this fact-filled book. Readers will also learn that this type of rock is useful in determining the Earth's geological history because its layers often hold fossils and other geological clues.
Topic Five: Metamorphic Rock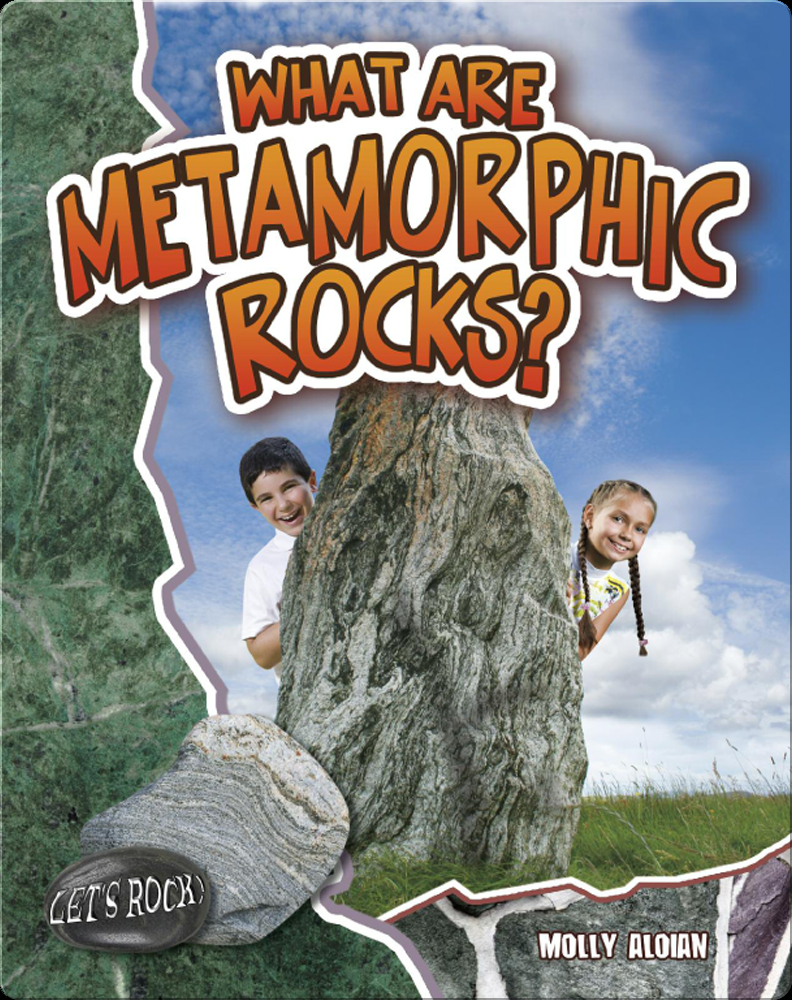 Metamorphic rocks are formed under great heat and pressure. They are found under the surface of the Earth.
Book Suggestion: What are Metamorphic Rocks? by Molly Aloian
Heat, pressure and stress can also change some igneous or sedimentary rocks into other kinds of rocks. This fact-filled book describes the process that turns limestone into marble, shale into slate, and granite into gneiss. Metamorphic rocks are often used as materials for floors, roofs, and counter tops because of their beauty.
Topic Six: Rocks vs. Minerals
Rocks and Minerals are similar and look the same, but they differ because a mineral is usually a solid compound, while a rock is a combination of minerals.
Book Suggestion: My Book of Rocks and Minerals by Devin Dennie
A stunning visual reference book for little geologists who love to find fascinating rocks all around them. Learn about 64 different types of rocks and minerals, how to tell the difference between them and where to find them. Dig into all the interesting geological materials from deep space to the deepest caves. You'll even discover glow in the dark minerals and living gems!
Topic Seven: What is a Gem?
A gem, or gemstone, is a mineral that has been chosen for its beauty, durability, or rarity, and has been cut and polished. Gems are typically used in jewellery.
Book Suggestion: Gems for Kids by Lee Hall and Ashley Hall
hat do dusty old rocks have to do with the shiny, colorful jewels that you see in rings and necklaces? Everything! Set off on a journey inside Earth and learn the different ways our planet uses rocks and minerals to make gemstones. Discover how some grow in red-hot magma deep underground, while others are made by animals or plants, plus fun facts about their colors, shapes, uses, and more. You'll even learn how to grow your own crystals with sugar and water!
Topic Eight: Discover More Gems
Gems are beautiful and are used to make jewellery. You can make some pretend gems and create your own jewellery—practicing the colour wheel and colour mixing as you do.
Book Suggestion: Rocks, Minerals, and Gems by Miranda Smith and Sean Callery
In Rocks, Minerals, and Gems, readers will learn about hundreds of rocks, minerals, crystals, and gems that were forged by the most powerful events in prehistory. Explore what specimens look like and how they're used today–readers can use the information to identify rocks and minerals themselves and open up a spectacular new world
Topic Nine: Birthstones
Experts believe that birthstones were chosen long, long, long ago and might have a religious origin. Astrologers long ago attributed supernatural powers to birthstones. Nowadays, the wearing of birthstones is often thought to bring good luck and good health.
Book Suggestion: Crystal and Gem by R.F. Symes
Find out what gives a labradorite its colors, discover how piezoelectricity is used, and see how crystals can be made in a laboratory. Eyewitness Crystal & Gem is the perfect guide for homework help on crystals or those simply wanting to further their knowledge of these fabulous natural creations. This book also comes with a fact-filled poster, great for your bedroom wall or classroom.
Topic Ten: Using Rocks and Minerals
We use rocks and minerals every day! From building our homes to making roads and sidewalks, and even cosmetics and beauty products!
Book Suggestion: Everybody Needs a Rock by Byrd Baylor
Everybody needs a rock—at least that's the way this particular rock hound feels about it in presenting her own highly individualistic rules for finding just the right rock for you.
There you have it, my friend, 10 Children's Books About Rocks!
If your little geologist likes these books about rocks, they will love my Rocks and Gems Family Unit Study! Grab your copy right here.
xo
Sarah