Has the warm weather found you yet? If so. it's time for water play activities!
We are still 'warming up' here in Canada, so our water play days are still a little while away. But we are dreaming … washing the snowsuits and mittens and dreaming of sunshine.
And if you are dreaming too, be sure to grab my Free Printable Rainbow Puzzle Pack to enjoy with your toddler! There are five different activities to enjoy with these little puzzles:
We did have one beautiful day here last week. The sun was out and it was nice and hot! It was just what I needed to tide me over for the last few rainy and cool days ahead. And then? Then it will be outside days. Riding bikes, digging in the garden, hanging with the chickens, and cooling off with water play fun.
Here are some of the most creative, yet still nice and easy, water play activities for kids:
Stamps in the Water Table, do you have a water table? If not, a little pool or bath tub would work just as well. We took our stamps and had a ton of fun making water marks on the deck and fence. This is a great way to sneak in some letter or number learning too.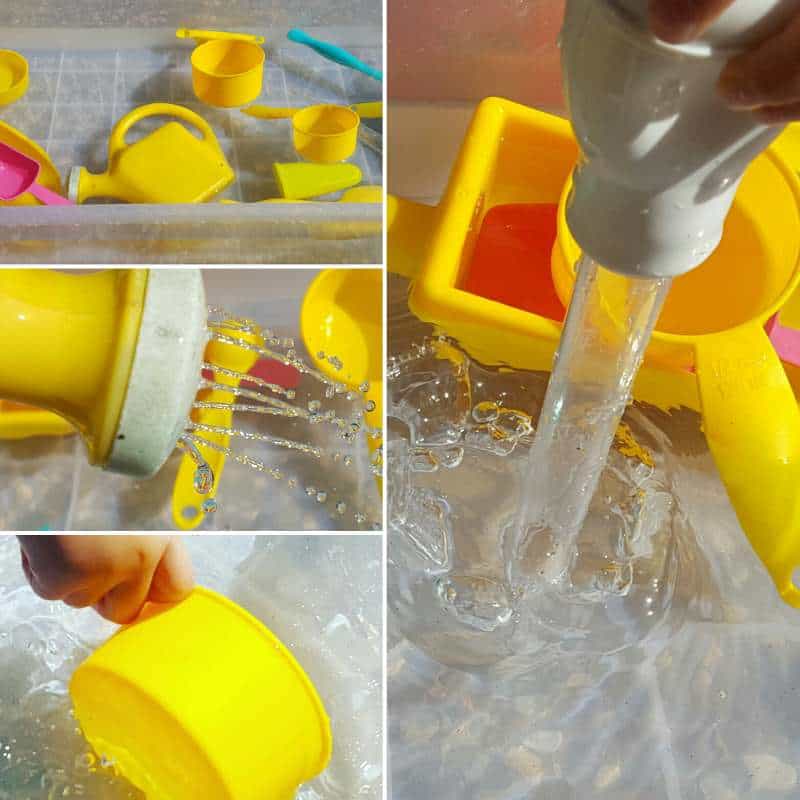 Scoop and Pour , How fast can you fill up a shallow tote with water? This is about the same time it will take to set up some simple water fun for your littles. Fill a kiddie pool, water table or shallow plastic tote with water and add a variety of scooping and "water transporting vessels" that you might find in your kitchen (e.g. strainers, funnels, bowls and containers of various sizes, measuring spoons, sponges, dish cloths etc). To expand on imaginative play, add small toys like cars, people or animals. If your child would enjoy a more sensory experience, add different shapes of noodles, rice, or pebbles to your water.
Aqua Lego – If you already have the kiddie pool out, why not bring out some LEGO? Your child might find it funny and exciting to try to build his favourite boat or tower in a new environment. Depending on your child's age, this could spark some great discussions and experimentation with the ideas of floating and sinking, building tall and building wide etc.
Water Balloon Hunt, a simple water balloon toss can be a thrilling way to cool off when the weather starts to get hot. But if you'd like to buy yourself some extra time and really stretch out the water balloon fun, why not play Water Balloon Hunt instead? Hide different coloured water balloons throughout your yard and send your child off to find and sort them into different colored buckets. If you want to review a particular concept with your child, you can draw shapes, letters or numbers on the balloons and get your children to sort the balloons in this manner instead.

Sponge Water Bombs, No balloons in the house? Don't fret! Positively Splendid shows us how to make these amazing Sponge Water Bombs in three easy steps. These reusable and washable Water Bombs could be used to play catch or "keep up", you could have a gentle "sponge water bomb fight" or you could toss them up in the air with a beach towel in a parachute-style game.

Washing Stations, Need to get some cleaning done? Set up a few buckets of soapy water and watch your children delight in scrubbing away at LEGO, play fruits and vegetables, toy cars, toy animals, or their favorite doll. Toss in the families dishes from lunch and snack time and you just bought yourself an extra 10 minutes! Kidding . . . but not kidding?
Toddler Fishing, Toss some foam or magnetic letters into your water table and get your child to fish out the ones you call out. Alternatively, they can try to match the letters with some you've written down in sidewalk chalk.
Sprinkler Fun, There's nothing like a good run in the sprinklers to cool off on a sunny day. If you don't have a "toddler-friendly" sprinkler, Housing a Forest shows you how to make one in a jiffy with a water bottle and some sturdy tape. Let the giggles begin!

Ice Pompoms, Is it just me, or are these frozen pom-poms actually mesmerizing to look at it? Imagine how fascinated your kiddo will be inspecting each cube and watching the ice melt away! If your child isn't quite the "wait and see" type, they might love figuring out how to extract their favorite pom-pom with a spray bottle, by using salt or dunking them in warmer water. The Paige Diaries also adds how this could easily turn into a colour sorting or counting activity too. Happy Toddler Play Time suggests other fun items to freeze in cubes such as rocks, letters and LEGO.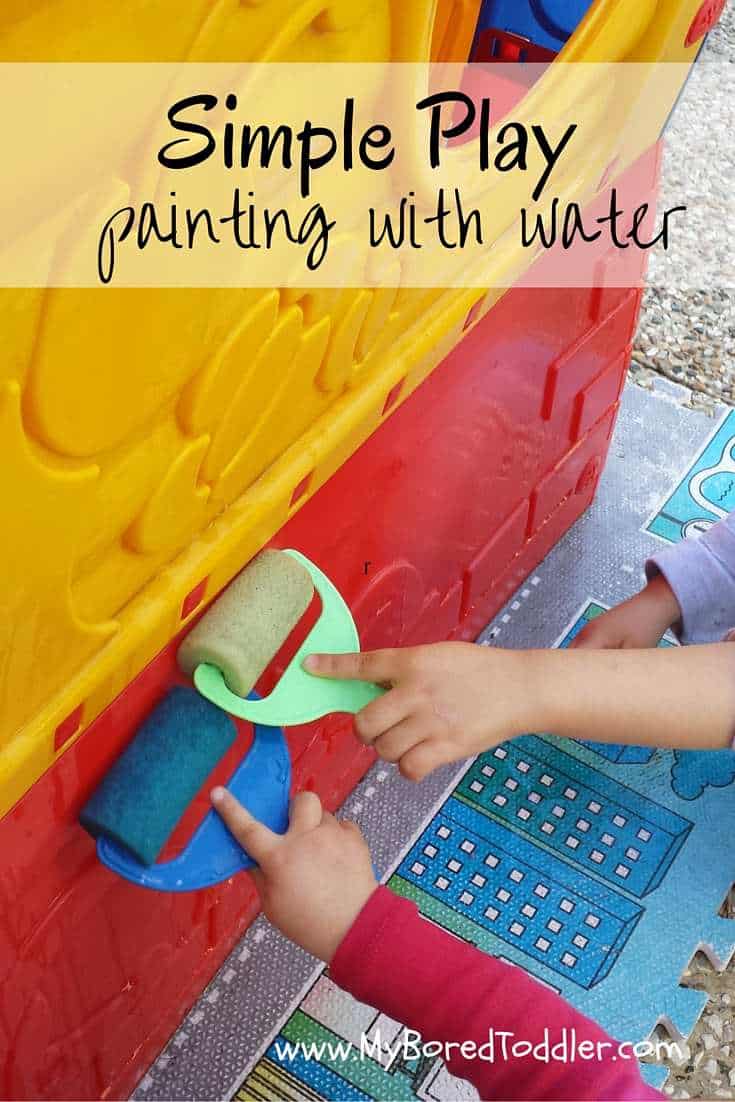 Painting with Water, Yup, you read that right! Give your toddler a bucket of water, some rollers or paintbrushes and task them to paint the fence, the shed, the deck, the swing set – whatever "needs painting." If you're feeling adventurous, add some food colouring to the buckets and get your children to paint an old-t-shirt or a safe piece of scrap lumber. My Bored Toddler tells us her kiddos stay occupied with this activity long enough for her to enjoy a cup of coffee! I'm in!
Wet Chalk and Ice Painting, Scrumdilly Do tells us how simply placing chalk in water for a few hours can cause the chalk to produce more vibrant colours. If your littles need an even more refreshing option, Reading Confetti shares a simple recipe for making ice chalk. You won't believe how many fun ways you can use this cool medium for outdoor art and play.
Ready to get out there and jump right in with the kids? That's one of my personal goals for this summer. To be sillier with my little ones – to get right in there and make some happy memories.
Water play activities will be perfect for this! There have been so many times in summers passed when I have been sweltering hot, but just dipped my toes in the sprinkler.Ridiculous! This year though, I'm ALL IN!
Bring on summer!
Thank you for reading friends, I hope the sunshine has found you!
xo
Sarah