If you are staying home this New Year with the little ones, why not make the absolute most of it? Wish the old year farewell, welcome the New Year with those you hold dearest, and make some amazing memories too with these New Year's Eve ideas!
I have found some absolutely Rockin' New Year's Eve ideas for families. These ideas are simple, fun, and bound to get you all laughing as you ring in the new year. What a beautiful way for it to begin!
We often do a "Noon Year's Eve" party since we still have some pretty little ones at home. We plan a few special activities and do a countdown at noon. This way, no one is left out for the fun.
Here is a whole pile of New Year's Eve (Or Noon Year's Eve) ideas, great for kids and parents alike. I hope you find a few on this list just perfect for you and yours!
First up, you'll want to grab this free printable! Colour your own New Year's Eve crowns, then cut them out an make a mini crown secured with a string, or attach both together for one bigger crown.
Now let's get into the rest of the fun New Year's Eve ideas!
Rockin' New Years Eve Ideas for Families
New Year's Eve Crowns – Another crown idea! Why not start the night by making some simple pipecleaner crowns? Be sure to opt for the sparkly pipecleaners—everything should sparkle for New Years.
Minute to Win it Games – These 10 Minute to Win it games are a HOOT! I love that they are nice and simple as well. These ideas are sure to get your kiddos laughing.
New Years Eve Ball Game by Sparkly Polliwog – This game is so simple, and the kids will love it! Wrap little toys and treats in this ball with all your leftover Christmas wrapping paper, and then let the fun begin. Pop on over for the full game.
New Years Eve Tree by Our Best Bites – Once you take off your Christmas decorations, leave that tree up and decorate it for New Years! Streamers and Balloons filled with goodies to pop at Midnight—awesome fun for a memorable night.
New Years Eve Cookies and Milk by Style Me Pretty – Such a fun way to toast the New Year with your family! A champagne flute filled with milk and a pretty multicoloured chocolate chip cookie for dipping. Deliciously fun.
New Years Eve Countdown Bags by Organize & Decorate Everything – From glowsticks to goodies, these countdown bags certainly help to build anticipation for the New Year and help the time to pass too!
Balloon Drop by It's Always Autumn – You are feeling very ambitious (though this actually seems simpler than it looks), you can give this balloon drop a try!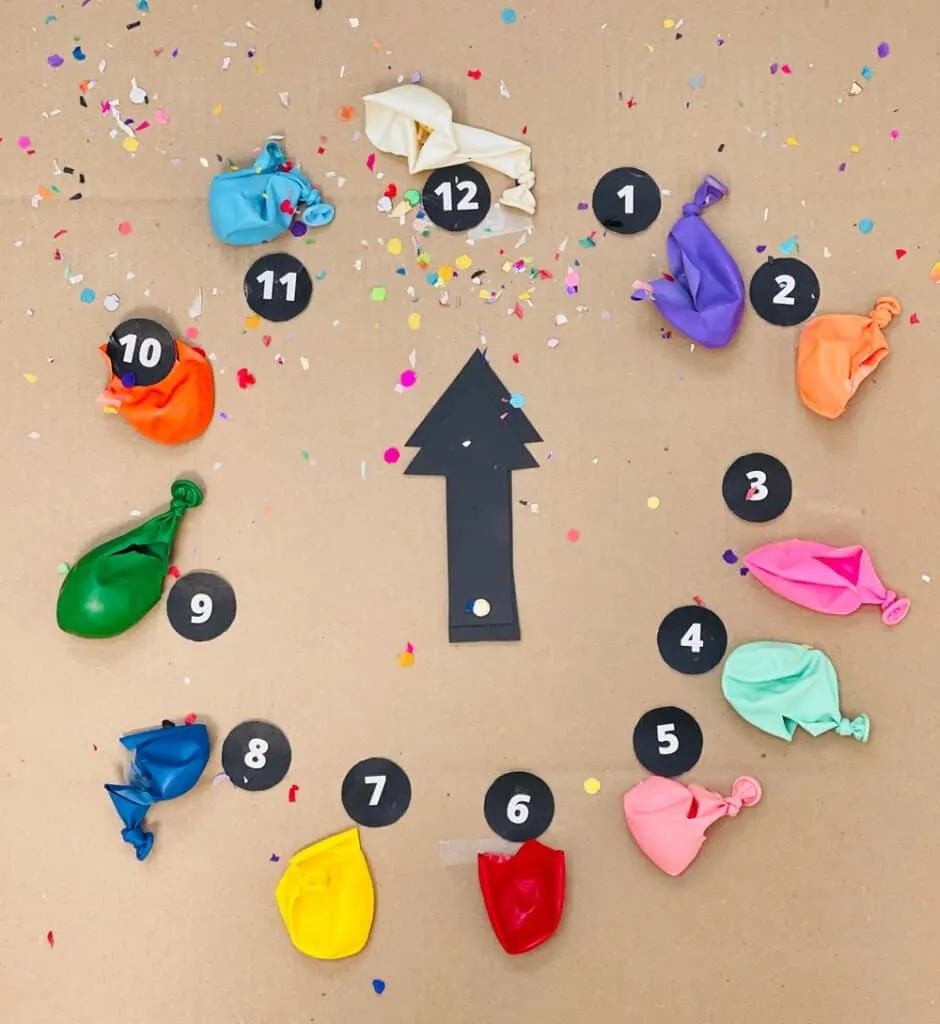 Balloon Clock by Hello Wonderful – Not only is this countdown balloon clock fun, festive, and colourful, but popping those balloons will be sure to keep everyone awake until midnight!
Cupcake Fondue by Simple Easy Creative – Have you ever heard of a cupcake fondue? This sweet idea is great for New Year's Eve!
Confetti Poppers by Smashed Peas and Carrots – If you are not one to mind a mess, these homemade confetti poppers look awesome! I'm not sure my little ones will get the pleasure of this activity—oh the confetti everywhere!—but what a fun idea for those brave Mamas with great vacuum cleaners.
What kid wouldn't love to attend that New Year's Eve Party?!
I hope these activities spark a few creative ideas for you and your family to make a memorable New Year's Eve. And really, going out with friends is nice, but creating memories with our families? That is extra special.
Happy New Year, friends!
xo
Sarah
P.S. Don't forget to grab your Free Printable New Year's Crown!